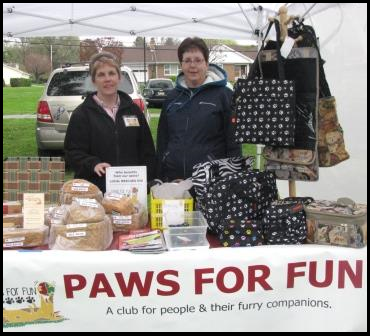 PAWS FOR FUN

is proud to be the organizers of the original BARKTOBERFEST PET FAIR in the Lehigh Valley, held annually on the

1st Saturday in October at Macungie Memorial Park

, Macungie, Pa. Be sure to stop by our booth!
Founded in 2010, PAWS FOR FUN (formerly Paws For Sertoma*) was formed by pet lovers who enjoy socializing with their furry companions. We also have a deep commitment to the work of all pet rescues. In accordance with operating as a 501c3, we donate profits from the merchandise we sell at pet fairs to local groups involved in finding "furrever" homes for abandoned and abused pets.

Every year, we participate in three local pet fairs:

EARLY JUNE - Quakertown Pet Fair, Quakertown Vet Clinic, 2250 N. Old Bethlehm Pike, Quakertown. Celebrating their 25th year in 2017, it's the biggest pet fair in the area with over 60 vendors and demonstrators.
LATE SEPTEMBER - Barkfest, Midway Manor Playground, 2020 E. Pennsylvania St., Allentown. A community-centered pet fair in the middle of an Allentown residential neighborhood.
1ST SATURDAY IN OCTOBER - Barktoberfest Pet Fair, Macungie Memorial Park, 50 N. Poplar St., Macungie. A laid-back pet fair held in a beautiful small town pet-friendly city park.